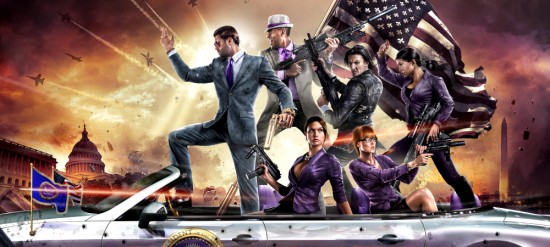 In the early days of the series, it was a challenge to talk about Saints Row without it being compared to Grand Theft Auto. They were both open sandbox worlds with a criminal undertone. But, the most recent iterations have separated the two with Grand Theft Auto being more realistic with its gritty drama while Saints Row took the over the top and ridiculous path that has become the signature appeal of the series. While in Grand Theft Auto: San Andreas you were able to attack someone using a sex toy, Saints Row The Third blew that toy up to the massive proportions of a floppy baseball bat to bludgeon foes to death with.
This past weekend, it was announced by Volition and Deep Silver (who purchased the studio from the THQ auction) that Saints Row IV is indeed coming and it will actually be out before Grand Theft Auto V. With Grand Theft Auto V being delayed until September (being the last major game release before the next generation of consoles presumably), Volition and Deep Silver have slid in a few weeks early and announced their game would be coming out on August 23rd.
From a business standpoint this is probably the best move for Saints Row IV (as long as it is finished and polished in time). Trying to go head to head with the GTA powerhouse would be a losing battle for the smaller franchise while getting out in front by almost a month during the usually dry release season in August is a chance for this game to be on people's radar.
The story of Saints Row IV veers further and further from reality with this time having players fighting off an alien invasion in a virtual recreation of Steelport. There, they are able to customize weapons like a guitar case rocket launcher. And have no fear, dubstep will make its way in to Saints Row IV with a gun that causes dubstep music, dancing and distorted visuals. In addition, there are giant mechs which is just what every sandbox game calls for.
Oh, and we almost forgot to mention there will be superpowers. Leap tall buildings, gliding, super speed, super punches and ice blasts. It is everything we wanted from DC Universe Online with an M rating and without the pesky Warner Bros. gatekeepers protecting their IP.
Saints Row IV comes to XBox 360, PlayStation 3 and PC on August 23rd. Check out the full trailer below and stick to the Flickcast for all your gaming news.