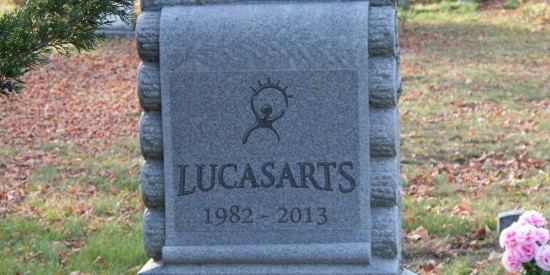 Yesterday morning, the news broke the news that Disney would be shutting down LucasArts, which they got as a part of their acquisition of the Star Wars purchase last October for $4.05 Billion dollars. Back when the sale took place, LucasArts immediately put a freeze on all hiring and announcements.
There were also reports that both Star Wars: First Assault and Star Wars 1313 would be canceled with the closure of the studio. It is estimated that about 150 people would be affected by the layoffs.
Later in the day, gaming magazine Game Informer got the following statement from Disney regarding LucasArts:
"After evaluating our position in the games market, we've decided to shift LucasArts from an internal development to a licensing model, minimizing the company's risk while achieving a broader portfolio of quality Star Wars games.
"As a result of this change, we've had layoffs across the organization. We are incredibly appreciative and proud of the talented teams who have been developing our new titles."
With regard to Star Wars 1313, the statement continued:
"It is worth noting that we are looking for proven external partners who can help us provide video games to our fans. We still believe in the video game industry, we still will provide Star Wars games, we're just looking at different models rather than internal production… They're evaluating everything. There's always a possibility that it [Star Wars 1313] can still come out via licensing."
There was no mention of Star Wars: First Assault.
Aside from Star Wars titles, LucasArts was known for their work on groundbreaking adventure games such as The Secret of Monkey Island, Grim Fandango and Day of the Tentacle.
We at The Flickcast wish the best of luck to all those affected by the layoffs.