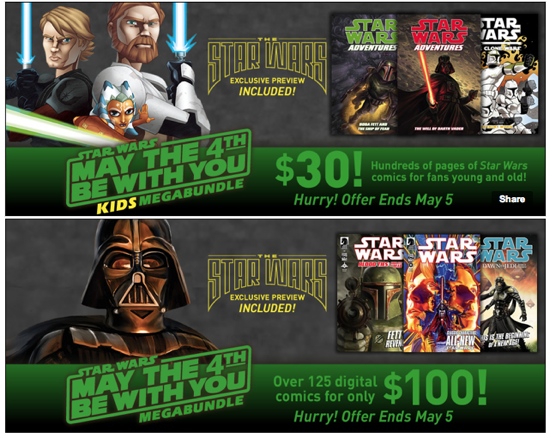 Do you love Star Wars? Of course you do. How about comics? Yep, us too. So when these two awesome things can be combined, it's even better, right?
Well, you're in luck because out friends at Dark Horse are stepping up to do something pretty great in celebration of tomorrow's 'May the 4th' Star Wars celebration (and Free Comic Book Day. Bonus!). What is this pretty great thing you may wonder?
Well, read on for more:
Get blasted into a galaxy far, far away with two amazing May the 4th MegaBundles! One MegaBundle is for devout comics readers, and the other is for the younger Star Wars fan in all of us!
The comic collection places over three thousand pages of Star Wars comics goodness right at your fingertips. It includes some of our most popular Star Wars series, such as Knights of the Old Republic, Blood Ties, Empire, and Dark Times, as well as some of our newest series, such as Dawn of the Jedi, Agent of the Empire, and our smash-hit series simply titled Star Wars, written by comics legend Brian Wood.

The kids' collection provides over one thousand pages of Star Wars Adventures and The Clone Wars. Hours of summer entertainment for your little Star Wars fan!

Each MegaBundle comes with an exclusive two-page digital preview of the highly anticipated comics adaptation of The Star Wars, George Lucas's original-draft screenplay. Written three years before the 1977 film, this first vision of the galaxy far, far away introduces us to Jedi Annakin Starkiller and General Luke Skywalker, as well as a six-foot alien named Han Solo. It's a tale of fantastic adventures, daring escapes, "laser swords," and monsters, and is sure to read like no Star Wars you've known before!

Over 60 percent off the regular listed price for these digital comics? Why, yes! These are the MegaBundles you're looking for, but they're only here for a limited time.

Dark Horse Digital is available through all modern web browsers and as an app in both the Android and iTunes stores.
And don't forget Free Comic Book Day. Listen to Wolverine, he'll tell you what's what.