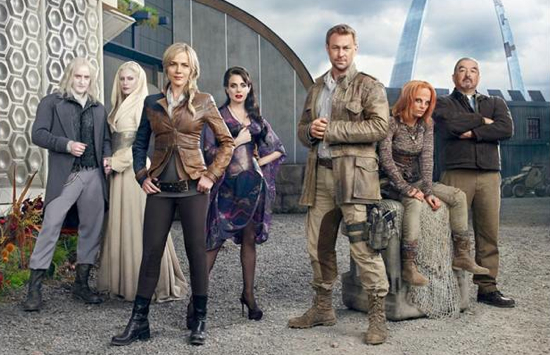 It should be no surprise that we support Sci-Fi around here. Even when it's spelled Syfy. Regardless of how you spell it, a cool syfy show is a cool sci-fi show.
Two of these cool shows are Warehouse 13 and Defiance, which has just been renewed for a second season. Both air on Monday nights on Syfy and we've got preview for Monday's new episodes to share with you today.
First off, during an all-new Defiance, Amanda & Nolan take a transport across the badlands to transport a prisoner. Of course, things don't go as planned. Shocking, right?
Then on Warehouse 13, it's a black-and-white, noir episode with guest stars Missi Pyle and Enrico Colantoni. Those crazy kids from Galaxy Quest back together again. Good times indeed.
It all start Monday at 9/8C on Syfy with Defiance followed by Warehouse 13. Check out all the previews after the break.
Defiance
Amanda and Nolan take a transport across the badlands to transport a prisoner and join forces with a band of outlaws.
The truth of what really happened to Kenya and Amanda's mother isn't pretty.
See little behind the scenes action of the before & after visual effects shots from Episode 4.
Kevin Murphy sits down with Mia Kirshner (Kenya) to chat about Episode 4.
Warehouse 13
Pete and Myka get sucked into a 1940s detective noir novel in search of an artifact. Meanwhile, Artie, Steve and Claudia chase down a phantom car thief.
The cast & crew share some stories from shooting Season 4, Episode 12.
Hear some of the best lines from last week's Warehouse 13.