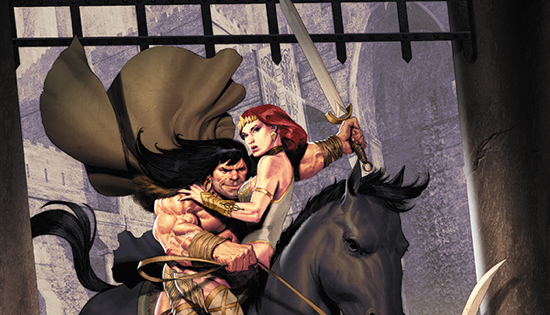 Among fans of sword and sorcery epics and legendary characters, Robert E. Howard's Conan is a big favorite. His exploits in comics, movies and more have entertained and enthralled millions around the world for many years.
And now, Conan is back again and Dark Horse has him in a new four-part miniseries from Fred Van Lente and Ariel Olivetti. The miniseries is alled Conan and the People of the Black Circle and it takes place a decade later than the current Conan ongoing series.
"I'm thrilled to be working from one of the best Conan stories Howard ever wrote, with the most interesting female lead and one of the Cimmerian's most compelling adversaries," stated Van Lente. "But what I'm most excited about is seeing what Ariel Olivetti does with my scripts—he was born to draw Conan, and his painted artwork should attract anyone who doesn't know anything about Conan or Robert E. Howard but just loves things that are awesome."
Check out the full cover after the break. Look for Conan and the People of the Black Circle #1 in stores October 16.