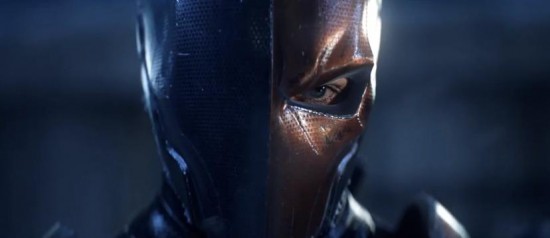 As we previewed early yesterday morning, the team behind Batman: Arkham Origins at Warner Bros. Games Montreal revealed an almost five minute long CGI trailer for the game yesterday afternoon. With it came the reveal of pre-order information, two new major characters and some interesting news on the voice actors.
From the initial teaser, it was already confirmed that Deathstroke would find his way into the game. It was announced today that those who preorder Batman: Arkham Origins would be able to play as Deathstroke. It will be in similar fashion to the Joker or Catwoman challenge maps of Arkham games past as well as contain two additional costumes for Deathstroke.
Additionally, the trailer reveals two characters. Black Mask makes his return to the series after a brief cameo in Arkham City. It should be noted that it is revealed in Arkham City that Black Mask was the only man to ever escape. In addition, Deadshot will be making a return to the series as well.
Most important though is that Kevin Conroy has apparently made me a liar. After announcing at Dallas Comic Con that he had been working on the Batman: Arkham Origins game over the last nine months, it was announced today by Warner Bros. that Roger Craig Smith would be lending his voice talents to the caped crusader. Having taken on iconic roles already such as Captain America, Hawkeye and Ezio, there is no doubt that Smith has the chops to pull it off but where does that leave Conroy? Speculation already points to Smith playing a younger Batman in flashbacks being reflected upon by the current day, post-Arkham City Conroy Batman. In addition, the Joker will appear in the game but he will instead be voiced by Troy Baker who most recently took on the role of Booker in Bioshock Infinite.
Make sure to check out the full trailer below and leave us your thoughts on Batman: Arkham Origins coming to the XBox 360, PlayStation 3, Wii U, PC, PS Vita and Nintendo 3DS on October 25th.