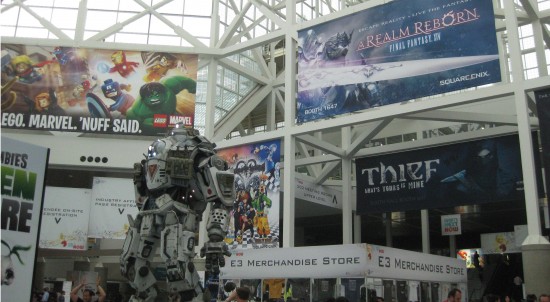 As I've said before, one of my favorite parts of working with The Flickcast is the ability to check out some awesome trade shows like E3, Wondercon and Comi- Con and then have the chance to share them with our readers. On of best ways to do that has always been photo galleries. Now, I want to apologize a little (even though it isn't my fault) that E3 has reduced the amount of booth babes at the show so there isn't a plethora of photos from the show floor with half naked women.
But you have to remember, E3 is a trade show with industry professionals. It can't be all T & A like Comic-Con.
This year was actually my first E3 and unfortunately I was only able to go to the show for one day. But I did get hands on with some stuff on the floor. I had the opportunity to play Diablo III on the PlayStation 3 and it actually felt like a very different experience than the PC version. Aside from it working properly, it also felt more like a button masher in the same vein as Gauntlet Legends. Also got to try out the new LEGO Marvel Super Heroes which was pretty awesome too.
What I didn't get to do, though, was get hands on with the PlayStation 4 or XBox One. Part of it is because I only had one day to spend at E3 and couldn't bring myself to stand in a line for five hours to play just 15 minutes of a game. I am going to be probably standing in line much longer at a midnight release anyway.
Plus, Comic-Con is right around the corner and I am sure there will be opportunities there as well. But enough about that, take a look at the floor of E3 2013 below!