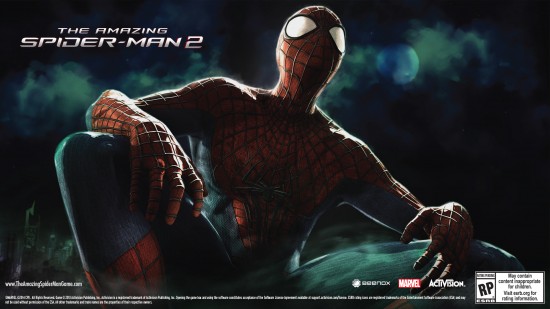 Since The Amazing Spider-Man 2 is headed to theaters in spring of 2014, it isn't much of a shock that its gaming counterpart will be coming out around the same time as well. From what we've heard so far from the folks at Beenox and Activision who revealed the trailer at New York Comic Con is that it will release for the PlayStation 4, PlayStation 3, PlayStation Vita, XBox One, XBox 360, PC, Wii U and Nintendo 3DS.
As you'll see in the press release attached below, there isn't mention on a split development between the current gen and next gen systems which leads one to believe that the PlayStation 4 and XBox One versions may be just slightly better graphics but with no real change in the gameplay.
In the trailer, you'll also notice a new villain that doesn't match up to any characters yet announced in the movie. Half way through, you'll see a very light skinned character, similar to that of a gang member. with tattoos on his body and his face wrapped in a scarf of some sort.
You then see a second similar gang member attack another character who is holding a kukri style machete. These may be just some gangs that Spider-Man encounters in the game, or this scarved character may be one of The Amazing Spider-Man movie style analogs of an existing character like Carrion.
Check out the full press release below as well as the teaser trailer. Make sure to give us your thoughts on the trailer, who the scarved villain may be and what system you plan on getting the game on.
"The first The Amazing Spider-Man game gave players their own beautifully animated, free-roaming city of Manhattan to traverse and explore – a playground of majestic scale in which to live out our common hero fantasies," said Thomas Wilson, Co-Studio Head of Beenox. "And the overwhelming message from fans was: 'MORE!' That's what our team is working toward with The Amazing Spider-Man 2 – we're giving gamers more abilities, more upgrades, more challenges, and more freedom to progress. And with the game launching alongside the new movie, offering an expanded interactive experience beyond the film, fans of the franchise won't want to miss playing it."
In The Amazing Spider-Man 2, players once again assume the role of the iconic Super Hero in a unique side-story inspired by the feature film but set in its own continuity. Throughout his journey, Spider-Man will encounter a number of new foes as well as some old friends, as he confronts a new threat to his beloved city. The narrative will give Peter Parker, Spider-Man's nerdy photojournalist persona, a greater role in the spotlight, as he investigates the complicated motivations and unique personalities behind the menagerie of Marvel menaces threatening Manhattan.
As Spidey, players will be able to free-roam through a greatly-enhanced Manhattan cityscape, one set to offer livelier, more engaging opportunities with which to put his sensational skills to use. Central to the expansive depth and detail being poured into The Amazing Spider-Man 2 video game is the new "Hero or Menace" system, which incentivizes Super Hero behavior by rewarding the web-slinger's crime-fighting efforts, and adds consequences for letting criminality fester. Spider-Man's personal brand of web-swinging and up-close-and-personal combat will see a variety of new features as well.