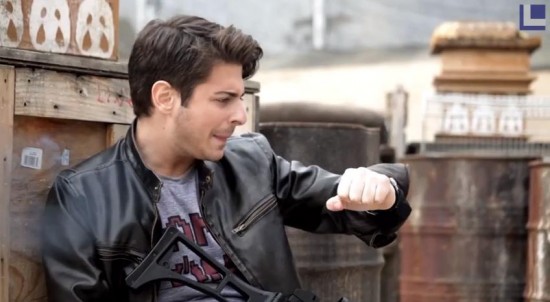 YouTube has more than its fair share of short form series. It also has heaps and heaps of video game content. But with the exception of a few standouts like Freddie Wong's Video Game High School, there aren't many great examples of gaming and short form series together.
Someone trying to change that is Petros L. Ioannou and his series My Life as a Video Game. Funded by a Kickstarter that raised $32,000, My Life as a Video Game will be a 9 episode first season that explores what happens when gamer Don DeWitt, played by Petros, gets too into the game and is pulled in to a world where games are real life.
Exploring multiple gaming genres, Don finds Kera Althorn (Jennifer Polansky) and is guided by the MENU System (Brent Black, better known on YouTube as BrentalFloss) through this pixel infused world. FPS, side scrolling beat 'em up and space combat all look to be fair game in this epic launched on Petros' YouTube channel LeonUnity. You can head there now to check out the first two episodes of My Life as a Video Game or check them out after the jump.