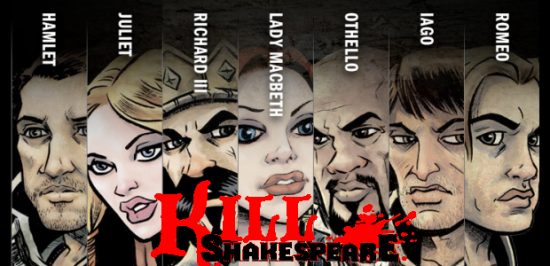 Friends, Shakespeareans, gamers, lend me your ears! IDW Games has launched a Kickstarter campaign for a Kill Shakespeare board game, based on the graphic novel series.
With a goal of $25,000, Kill Shakespeare is the first joint venture between IDW Games and Pandasaurus Games. The campaign includes perks such as lithographs, posters, custom dice and of course the game itself, at a deeply discounted rate. Stretch goals are also in place to expand game content to include additional characters and quests.
The game itself is a semi-cooperative board game where players are one of Shakespeare's heroes battling against his villains while completing quests from the Bard himself.
"We're excited to give fans – both old and new – this early-bird opportunity to check out the board game," Anthony Del Col, co-creator of the Kill Shakespeare comic series, said. "This is the first game from IDW Games, and we're blown away by how amazing it's shaping up to be – they've done a fantastic job of adding to our already-expansive world. We're glad that this Kickstarter campaign will allow audiences to get copies before anyone else, and we look forward to hearing back from everyone throughout the campaign."
Chief among the backer perks is the option for the first 250 people to get the game itself for $40, a $20 discount from the suggested retail price. Beyond that, backers can still get the game for at least $10 off SRP as well as additional content such as the full Kill Shakespeare comic series on digital download and a 22-page booklet, "The Art of Shakespeare." A Deluxe version of the board game, packaged to look like a antique Shakespeare book with a leatherette case and gold foil, is also available.
"Kickstarter offers us a platform to truly connect with the fans," IDW Games Director, Jerry Bennington, said. "We invite backers to take an in-depth look at the game we're delivering and to comment on what we can do to deliver the best possible tabletop gaming experiences."
Visit the Kill Shakespeare Kickstarter campaign to check out additional perks and details about the game.