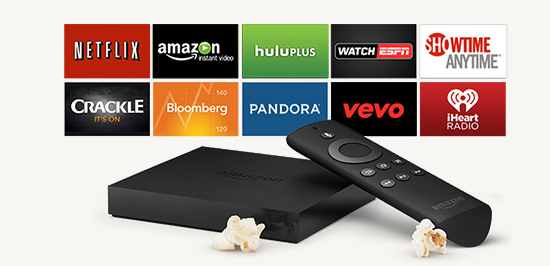 In a bid to compete with devices like the Google Chromecast, Roku and mainly the Apple TV, Amazon today announced the Amazon Fire TV. According to chairman Jeff Bezos, the Fire TV "is a tiny box that plugs into your HDTV. It's the easiest way to enjoy Netflix, Prime Instant Video, Hulu Plus, WatchESPN, low-cost video rentals, and more. With instant access to over 200,000 TV episodes and movies, plus all your favorite subscriptions and streaming services, you can watch what you want, when you want."
In addition, if you're a Prime member "you get unlimited access to thousands of popular movies and TV shows, including exclusives like Downton Abbey, The Americans, Alpha House, and Under the Dome." All in 1080p, of course.
Bu wait, there's even more. "Fire TV has voice search that actually works. The old way of searching with a TV remote—scrolling and clicking one letter at a time on an alphabet grid—is painful. With Fire TV you simply speak the title, actor, or genre into the remote and you're done."
The internal specs of the Fire TV are impressive as well. The device features a quad-core processor, dedicated GPU, 2 GB of memory, and dual-band, dual-antenna Wi-Fi. It also features a new buffering system which will supposedly help eliminate any streaming lag. Of course, your mileage may vary.
The device also plays games. Titles at launch include Minecraft, The Walking Dead, Monsters University, the Amazon exclusive Sev Zero, and many other free games available to Prime Members.
The Amazon Fire TV is $99.00 and ships today. The optional game controller will set you back another $39.99.