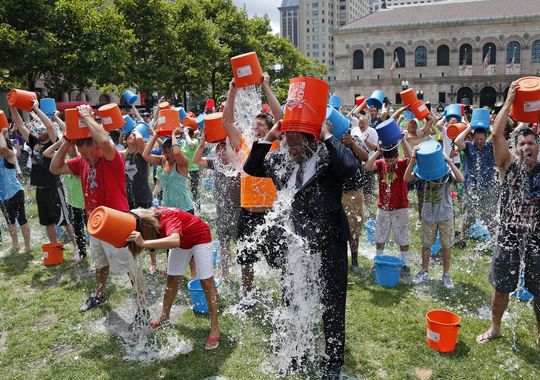 If you've touched social media (especially Facebook) in the last two weeks, you've undoubtedly seen the Ice Bucket Challenge. The challenge was started with intentions to go viral as individuals challenged their friends to dump buckets of, you guessed it, ice and water on their heads. It has evolved past awareness for the ALS foundation as it has lead to record donations by the people icing themselves. Amyotrophic Lateral Sclerosis was most commonly known as Lou Gehrig's disease and as Gehrig's name has begun fading from the public consciousness even after a rekindling during Cal Ripken's major league run in the 1990's, ALS's notoriety had fallen by the wayside as well.
With the challenge going viral like many other trends on social media such as the Cinnamon Challenge or the Fire Challenge, this one was one that pretty much anyone could pull off with relative ease and gave a quick laugh to those watching. With celebrities like Charlie Sheen and Lady Gaga putting their own spin on it, ALS charities raised over 15.6 million dollars so far and the number continues to grow.

Surprisingly (but actually not totally surprisingly since there are some pretty lame people online), there have been a rash of anti-Ice Bucket Challenge posts with most of them being unwarranted or cynical for the sake of attention. In California, people are stating it is a dumb idea because there is a drought yet those people don't seem to be conserving water in any way. The only statement that seems reasonable is that it seems pretty strange for people to push out a video for the cause but not actually making a donation.
Last night, I accepted a double challenge along with WallE to do the Ice Bucket Challenge. In response, we both have donated to Team Gleason and are pushing out challenge online which you can see below. We have extended our challenge to Michael Huffman (who you may have seen as the awesome Gambit cosplay from this year's SDCC), our lovely lady friends from the YouTube channel Creature and the Flickcast's very own Matt Raub.
Please head to TeamGleason.org and consider donating as well, whether or not you've been challenged. If you're walking around with a smartphone in your pocket, an expensive purse or an XBox One and a big screen TV, think about what you've been lucky enough to have in your life and consider paying that forward to others who may not have been.