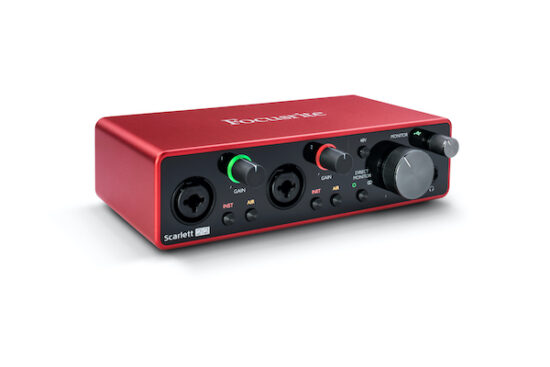 Time to kick off another new series here at The Flickcast and this time around we're calling it Tech Time. In it we focus on a piece of technology we love from the past, present or future. And the lucky winner today is a device we couldn't live without, or at least we couldn't do our podcast without: the Focusrite Scarlett 2i2.
The Focusrite Scarlett 2i2 is a digital audio interface. It allows you to connect up to two microphones, or other analog devices like guitars or keyboards, to your computer via a USB-C cable. With the 2i2 you can connect 2 mics, or other devices via XLR, or two devices via instrument inputs, or one of each.
Our podcast co-host Chris Ullrich uses a Shure SM7B microphone to record his part of the podcast. That mic is connected via XLR cable to the Scarlett 2i2 and then to a MacBook Pro via USB-C. On the MacBook Pro, audio is recorded in Apple's Logic Pro for editing, mixing and final output.
In the interest of transparency, the Shure SM7B is rather power hungry. To help with that Chris uses an additional device between the mic and the Scarlett 2i2: the Cloudlifter CL-1. It provides additional clean gain so the mic gain on the Focusrite Scarlett 2i2 interface doesn't need to be set as high. This helps ensure cleaner sound.
You don't need the Cloudlifter CL-1 to make the Focusrite Scarlett 2i2 work, it provides enough power on its own. Chris just likes things to be extra clean, with as little gain from the pre-amp in the 2i2 as possible. So, he added the Cloudlifter.
Also, using a different microphone, one that's less power hungry, would be a way to go too. For example, we've had great results with another mic from Shure, the SM58. It's a great mic and one you'll find on many stages and in recording studios around the world.
So if you want to make a podcast, record yourself playing guitar or reading an audio book, you'll need a device like the Scarlett 2i2. In fact, if you do end up with one of these, it's probably all the audio interface you'll ever need. It really is a great device and one we use pretty much every day.
For more on the Focusrite Scarlett 2i2, check out the company's website. You can also watch a video about it below.
Do you use a piece of tech like the Focusrite Scarlett 2i2? If so, what do you use it for and what do you think of it? Or, is there a different one you recommend? Let us know in the comments or hit us up on Twitter, Facebook or Instagram.
Happy Recording!
Image: Focusrite
Note: This post contains Amazon affiliate links.