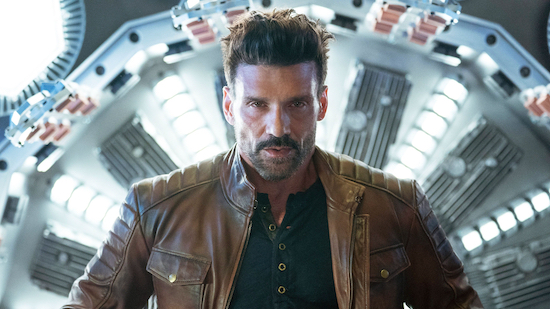 Welcome back to another edition of Trailer Time. This is the place where we post cool and interesting trailers for movies, television shows, games and more. For this week's edition of Trailer Time we've got Joe Carnahan's sci-fi action epic Boss Level.
The film, which hits Hulu today, features Frank Grillo as Roy Pulver, a retired soldier stuck in an endless time loop where he replays his own death over and over. As he begins to unravel the nature of his predicament he realizes his survival is tied to the fate of his ex-wife and son and the potential destruction of the entire universe. Yeah, the stakes are pretty high.
Boss Level also features Naomi Watts, Michelle Yeoh, Annabelle Wallis, Will Sasso, Ken Jeong and Mel Gibson. Yes, that's right, Mel Gibson. Say what you will about Mel (we have), but he was once a beloved movie star and he can still act, which he does pretty well in this movie.
Fortunately, though, this isn't a Mel Gibson movie. It's a Frank Grillo movie. And that's a good thing.
We're fans of Grillo, so we're happy to see him get starring roles in more movies. He's great in this one.
Yes, we've seen the entire thing. It's really good. You should watch it.
We'll probably post a full review of Boss Level soon. But really, you should just go watch it instead. Until then, check out the trailer below.
What do you think of this trailer for Boss Level? Have you seen the movie? If so, tell us what you think. Is there a trailer for something else you're most excited about? Let us know in the comments or hit us up on Twitter, Facebook or Instagram.