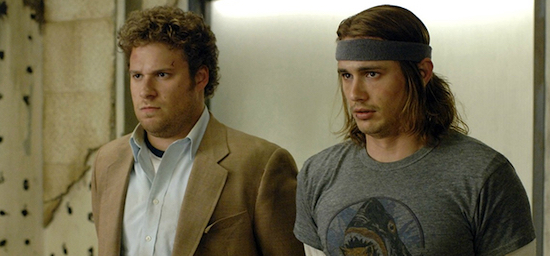 It's time for another edition of What We're Watching. This week we're watching the stoner buddy comedy/drama Pineapple Express.
Sure, Pineapple Express might feel like an odd choice given the movie came out in 2008. That seems so long ago. It kinda was. But if being stuck at home during a pandemic showed us one thing, it's you need to entertain yourself.
One way we enjoy entertaining ourselves is pretty much the same way most of the people in this movie do. So yes, Pineapple Express is a fine choice for us . . . and it might be for you too.
The movie is very funny and features great performances by stars Seth Rogen and James Franco (especially Franco). We do find the shift in tone from stoner buddy comedy/drama to violent gore fest rather abrupt and it does dampen our enjoyment of the movie somewhat.
While we do realize what the gang who made the film were going for, it just doesn't quite land with this one. But even so, the film managed to be very successful and profitable, so obviously it didn't bother a lot of other people. We were just hoping for more, as always. Opinions differ, and that's cool.
Rogen and company do a much better job pulling this off with the more recent This is the End. We really like that one. Don't worry, we're gonna watch that again soon and will be posting about it.
Until then, watch Pineapple Express and entertain yourself. It really is quite fun, not matter where your head's at.
Oh, if you do decide to enjoy this movie, partake in other related products (or both), please do so responsibly. We don't advocate breaking the law and certainly aren't encouraging you to do so.
Sorry, our lawyers made us say that. But yeah, try to be cool.
Pineapple Express stars Seth Rogen, James Franco, Danny McBride, Amber Heard, Gary Cole, Rosie Perez, Craig Robinson and a host of other great actors. It's written by Rogen and Evan Goldberg, produced by Judd Apatow and directed by David Gordon Green. Check out the trailer below.