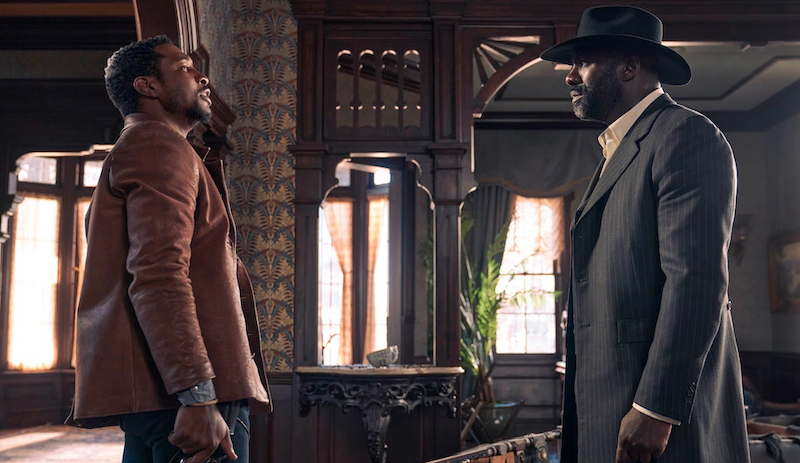 It's time for a brand new episode of The Flickcast. The podcast about stuff nerds love. This week it's Episode 460: The Harder They Podcast.
On this week's brand new episode, Chris and Joe get deep into it with discussions, observations and, yes, opinions on various new and recurring topics. So, a typical Tuesday then?
A lot of this features The Harder They Fall, the awesome new western starring Jonathan Majors, Idris Elba, Regina King and directed by Jymes Samuel; Marvel's latest film Eternals; the under appreciated genius of So I Married an Axe Murderer and the latest on the Apple TV+ series Foundation and Invasion. And of course, some other random "mores" too.
Picks are back this week with Chris' pick of the classic TV series The Wire and Joe's pick of the series Lost In Space, soon to be dropping its third season on Netflix. Yes, we know Chris has picked The Wire before, but it's just so damn good he had to pick it again.
If you like the show, please consider rating or reviewing it on Apple Podcasts, or your podcast app of choice. Every rating or review helps. And if you're really feeling it, consider supporting the show on Patreon. That would be cool.
Thanks for listening!
As always, if you have comments, questions, critiques, offers of sponsorship or whatever, feel free to hit us up in the comments, on Twitter, Instagram or, yes, even Facebook. Or shoot us an email. We don't mind.
Opening music by GoodB Music under Creative Commons License
End music by Kevin MacLeod under Creative Commons License
Image: David Lee / Netflix
Subscribe: Apple Podcasts | Spotify | Amazon Music | Stitcher | TuneIn | RSS