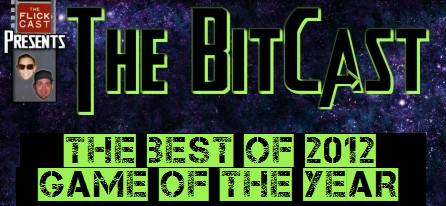 In 2011, there was an incredibly close race between Batman: Arkham City and Portal 2 between team Bitcast for the Game of the Year award with Portal 2 coming out on top. This year, the conversation went a lot smoother.
While there were lots of games that got our attention to be nominated, there was one game that stood out amongst the crowd as the clear favorite on The Flickcast. Dishonored, Far Cry 3, Journey, Unfinished Swan, Borderlands 2, Mass Effect 3, Slender were all great innovations in gaming in 2012 and all garnered huge followings. But there is one game that proved it was special to people on so many levels that when it came time to cast the final ballot on game of the year, it was a no brainer for the both of us.
The Bitcast Best of Gaming 2012 Game of the Year: The Walking Dead from Telltale Games
The Walking Dead from Telltale Games is a five part downloadable adventure game that was released on virtually every platform over the course of eight months. The game's simple controls allowed for it to be played on XBox 360, PlayStation 3, PC and all mobile and iOS platforms. Recently, a retail boxed copy of the game was released as well as a collector's edition that contains a copy of The Walking Dead Compendium Vol. 1 , which includes the first half of the current comic series. The Walking Dead from Telltale takes place in the world of Robert Kirkman's The Walking Dead comic and even allows players to cross paths with characters from the book in an early episode of the game.
JC's Perspective
When the time came to decide, I didn't even question The Walking Dead. After playing through Episode 1 in a single sitting, I couldn't wait to get my hands on each new episode. Even if I was playing through another game, I'd instantly put it on hold to go through The Walking Dead's newest episode. If you think waiting until February for the TV show to come back is rough, it is even harder when you have a story you are more emotionally invested in since you're the one actually making the decisions affecting the life of your character and a little girl named Clementine.
I think Clementine is what holds The Walking Dead game together so well. In lots of games, I make the "bad" decisions. My character in Fable titles always has devil horns and even in Black & White I earned power by launching boulders at rival villages or slapping around my giant pet. But when it comes to helping a little girl survive the end of the world as we know it, I turned into a puddle of mush. As much as I wanted to scold her for a bad choice she had made, I couldn't bring myself to yell at her.
I had to teach her the way a parent would since hers were gone and I didn't want to be the one to tell her that looking for her family would be a waste of time because they were probably dead. I had to put on a smiling face and keep her motivated because I knew if something happened to me, she would need something to push her to keep going. That's right. The Walking Dead made me feel this way about a child that has never nor will ever exist.
The constantly changing setting and cast of characters of The Walking Dead game, just like the comics, is part of the game's appeal too. While on the search for Clementine's parents and a safe place to stay, characters come in and out of the story of Lee and the rest of his group. Some take their own paths, some you leave behind, and many face the fate that everyone is expecting whether it is because of the zombie horde or by human hand. In so many games, people just get used to building up their party and occasionally feel the loss of a single member. In The Walking Dead, it feels like everyone is vulnerable at any time and it leads to some incredibly difficult choices.
Like I said, this year's choice was a no brainer for me and I knew it was the right call once I talked to WallE. Last year, he and I went back and forth between the close contenders of Batman: Arkham City and Portal 2. This year, with no preface, I asked him his game of the year and without hesitation he said The Walking Dead as well. Cheers to the team at Telltale and I thank them personally for giving me this gaming experience in 2012.
WallE's Perspective
Coming up with a game of the year is a difficult task. More-so than movies, games offer so many different experience types that it becomes folly to judge them directly against one another. So when it comes to labeling one game above all others it becomes necessary to find a valuation that gives every game a fair shot. The best way for me to judge a list of top games that includes first person shooters, puzzlers, adventure games, point & clicks, and indie titles is to boil each one down to experience.
What game gave me the best experience in 2012? As deep thought once so eloquently revealed, once you know the question, the otherwise crazy answer makes a ton of sense. The Walking Dead is the best game of 2012.
The Walking Dead represents a monumental achievement in interactive storytelling. This game manages to elicit the deepest, most raw emotions I have ever experienced from a video game, and I still cry when a certain sword enters a certain flower peddlers back. All while having very limited game play, cartoonish graphics and a pretty short play time. Despite all of those surface 'flaws' the game shines as a beacon of story over function, and became a new high water mark for video games as an art form.
The next time someone tries to tell you Video Games are not art, slap them in the face, sit them down and give them the inevitable 'Game of the Year' edition of The Walking Dead. Then watch as his preconceived notions of what the medium can achieve are washed away in a sea of tears.
Again, 2012 was a great year in gaming and unfortunately we couldn't recognize every game with individual awards but we did our best. Please check out all of the 2012 Bitcast Best of Gaming Awards from Monday, Tuesday, Wednesday and Thursday as well.
Here's to 2013 and the huge lineup we have coming ahead for next year's discussion.