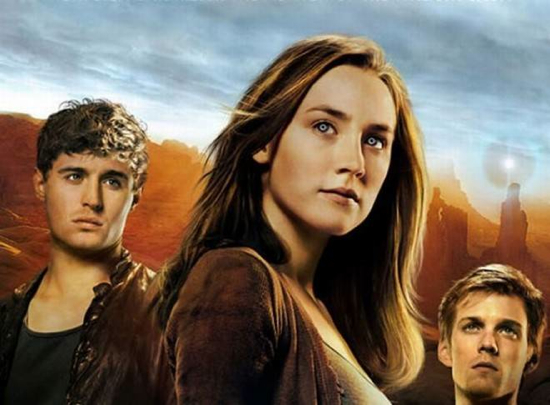 Going into The Host I didn't know what to expect. The trailer looked promising and I had heard that Twilight author Stephenie Meyer's adult book was better than her vampire romance novels. I cannot judge the book, having never read it, but The Host movie was unspectacular and downright weird.
The plot goes like this: Aliens called "Souls" have invaded Earth and taken over nearly every human being (think Invasion of the Body Snatchers). Melanie Stryder (Saoirse Ronan) is captured and a Soul called Wanderer is implanted into her body. Instead of fading away, Melanie's consciousness holds on and the two fight for control of Melanie's body.
Eventually Wanderer (now Wanda) helps get Melanie to her loved ones but things get (more) complicated when Wanda starts to have feelings for new guy Ian (Jake Abel) but Melanie is still in love with her boyfriend Jared (Max Irons). In the mean time, main antagonist, the Seeker (an awesomely stone faced/borderline psychotic Diane Kruger) is hunting for the last humans and using Melanie/Wanda to find them.
It's a jumbled plot but not necessarily a bad one. Until it all starts to play out in front of you. Moments that seemed to be significant later meant nothing, the climax of the main plot got lost in the eight other storylines happening at the same time and the big twist was less surprisingly and more confusing.  Just like I did when watching Twilight, I found myself (along with the rest of audience) laughing when scenes weren't meant to be funny.
Then The Host pulled a Lord of the Rings: Return of the King and "ended" three different times. The actual ending clearly left an opening for a sequel, which Meyer says she plans on writing.
One aspect that happily set this film apart from its vampire counterpart is the acting. Ronan, Abel, and Irons did a respectable job with the dialogue they were given even though the four-sided romance between Ian/Wanda/Melanie/Jared was ridiculous. Ronan especially did a fine job acting as the innocent and curious Wanda as well as the strong and resourceful Melanie. Abel and Irons were pretty to look at but less interesting characters and subject to particularly eye-roll inducing dialogue, such as Ian promising to love Wanda even if she were just the amoeba-like Soul and not in Melanie's body.
So if you like the book, confusing plot lines, Twilight, or pretty young actors, check out The Host, in theaters now.