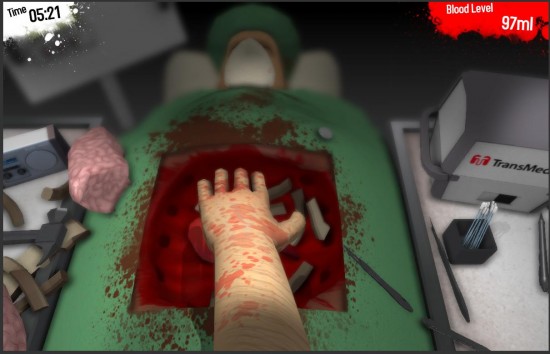 If you're a fan of Let's Plays or Rage Quit videos on YouTube, you'll probably already be well versed in this game. But if not, boy do we have something in store for you. Developed back in January at the 2013 Golden Game Jam in just 48 hours, Surgeon Simulator 2013 is far from a realistic simulation as its name might suggest.
In it, players are tasked with performing a heart transplant on a patient. There is a slow loss of blood to put players under a time constraint but as they make mistakes, the patient loses blood more rapidly. The original version is currently a free to play browser based game.
What is interesting about Surgeon Simulator 2013 is that the original version isn't what one would traditionally call a "good game". In essence, it is actually pretty broken. Not to knock the development on it because it is a pretty epic creation in mechanics and graphics in just two days time, but the controls leave a little something to be desired. But somehow that has become the appeal of the game.
Players user the A,W,E,R and Space Bar buttons to control the individual fingers of the seemingly one handed surgeon while using the mouse to move the hand. With control about as intuitive as QWOP, things don't go the way they are supposed to and tools don't properly saw or smash their way through the poor patient's rib cage. Usually tools are left discarded inside said patient because it is just easier. In all of my time seeing videos for it and playing it myself, I am yet to see a single successful surgery.
Instead of becoming a game of saving lives like Trauma Center, it ends up becoming more of a race to take out the patient in some pretty brutal ways. These include dropping a hammer on his face or leaving an electric bone saw in the chest cavity. The game isn't gory or gross and is definitely geared towards a cartoonish and comedic interface. From the super serious "trauma" music playing to the cries of pain coming from the patient, everything is handed in a very tongue and cheek manner.
While I don't know if I would actually head over to Steam and buy the complete retail version of the game which was marked down 30% on Steam this past weekend from its $9.99 price, I would recommend people give it a shot on the free version. This is fun in the same way a B movie is fun. You aren't going in and expecting (or getting) excellence. You're expecting a mess (that is even better when drunk since you are "partially" to blame for murdering this innocent patient. Check out free version of Surgeon Simulator 2013 here and come back next week, like every Monday, for the Monday Freeview with a look at some of the best pieces of free entertainment out there!