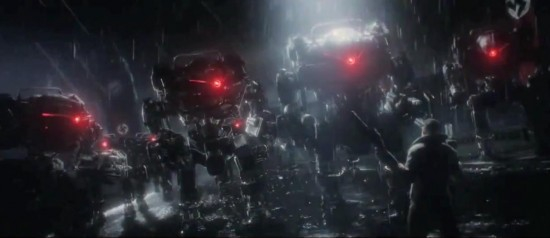 It's been about four years since we last saw William "B.J." Blazkowicz take the fight to the filthy Nazi forces in Wolfenstein. Finally yesterday though, it was announced that B.J. would be making his return in the next installment of Wolfenstein entitled Wolfenstein: The New Order.
From what we've been able to find out so far, Wolfenstein: The New Order takes place years after the events of the last Wolfenstein. Although B.J. accomplished his mission, something happened as he was hidden away and he has a new regime to deal with. While some Wolfenstein games have at least started more reality based, Wolfenstein: The New Order is taking the Go Big or Go Home approach right at the start. Gigantic robots with lots of weaponry look to block B.J.'s way.
As far as we know, Wolfenstein: The New Order will be coming to the XBox 360, PC, PlayStation 3 and also the PlayStation 4 this fall. With the upcoming next XBox announcement set for the 21st, it wouldn't be surprising to see that system added to the SKUs.
Take a peek at the announcement trailer below and stick to The Flickcast for more on Wolfenstein: The New Order as news becomes available.