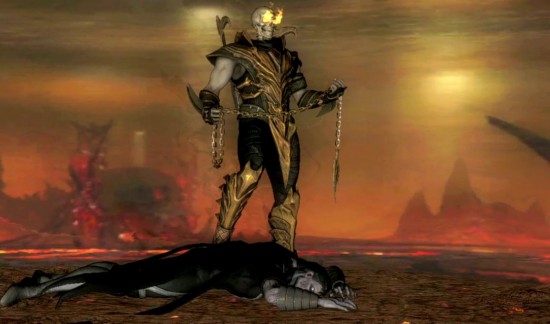 Take a look at the roster of Injustice: Gods Among Us and tell me, who do you think is missing? The Season Pass has already brought us Lobo and Batgirl but there are still so many of DC's top tier talent or at least upper B-level stars yet to appear in the game. Scarecrow. Mera. Firestorm (who is conceivably the only reason Killer Frost is in the game). Deadshot. Guy Gardner. The Black Hand. Hell, even Ambush Bug. So who is the third character revealed in the Season Pass for Injustice: Gods Among Us?
That's right. Scorpion. Yup, the fighting game that won't let you perform fatalities was just begging for Mortal Kombat to make its way into its ranks. Now, I won't be completely cynical about it. There is an awesome new redesign to Scorpion done by Jim Lee in the game (so we know what he would have looked like if he had been a Marvel mutant during the Claremont run of X-Men).
This is also a character who MK fans will instantly be familiar with his moveset allowing for a much slower learning curve to the character since his gameplay isn't almost entirely new like most of the rest of the cast. You can check out his full trailer below.
In addition, and probably more exciting news, is that it appears Martian Manhunter will be making his way to the game. Though just speculation, the trailer below featuring the introduction of Scorpion from Jim Lee and Ed Boon as well as Scorpion going head to head with Black Lantern Superman also includes a special Easter egg at the end. At this point, Marvel movies have taught us to stick around to the bitter end and even though DC movies have penalized us for it (see Sinestro's "big reveal" in Green Lantern), it is worth waiting to see that the Justice League's hidden heavyweight looking like he is ready to join the fray.
Take a look at the full trailer and keep your eyes peeled for the final official reveal (of most likely the Martian Manhunter) for the final piece of DLC in the Injustice: Gods Among Us season pass.