One billion dollars in merchandise shipped to retailers on day one. Quite the ambitious feat and though Grand Theft Auto V set the record for the fastest entertainment property to hit a billion dollars in actual sales in three days, Call of Duty: Ghosts is in a unique position in how they will reach it. This is the first Call of Duty since Call of Duty 2 to be released on a crossover year with a new console launch.
Not all gamers who are planning on purchasing the PlayStation 4 later this week or the XBox One next week are going to be able to afford a double purchase and considering what we've seen with the next gen graphics, it is certainly splitting the sales. And considering it is also a yearly franchise, there isn't that same gigantic level of hype for a new Call of Duty the way there is for a new Grand Theft Auto. That said, Call of Duty: Ghosts is a game you are going to want to play.
The Long
Call of Duty: Ghosts is the first entry into the Call of Duty franchise from Infinity Ward since the conclusion of the Modern Warfare trilogy two years ago. They not only needed to introduce an entirely new set of characters but a new status quo as well. Set in a world similar to that of Modern Warfare and Black Ops, this version has a group of allied forces fending off an attack from the Federation.
A small but interesting group of main characters fight alongside the player as he is clandestinely brought into an elite unit called the Ghosts as they take on the monolithic Federation that has brought hell to America. One feature of note is that while we get a good look into the main antagonist, we never see the real face behind the Federation, only one of its main foot soldiers. Unlike Modern Warfare, the story climaxes with a clear setup for a sequel to the narrative as opposed to a questionably defined end to the story.
Also unlike Modern Warfare, the effects of the war have already ravaged major cities like San Diego and Las Vegas and players are part of an uprising resistance rather than being on the front line of the initial battle. These recognizable locales are gorgeous looking replicas of real life locations and shine with one of the prettiest games of the generation. As much as people made fun of it at E3, the lighting really is amazing. It shines even further in the jungle and underwater locations. By the way, it isn't a good idea to shoot at the sharks when you are underwater in case you are wondering. There are also two fantastic space combat missions that change up the gameplay well.
Speaking of sharks, animals do play a pretty strong role in the game but it isn't overkill. At one point you find out sharks aren't the only wildlife gunning for you. But as shown, the dog is the highlight.
Riley, whose name actually is the last name of Ghost from the Modern Warfare series, takes part in a few of the missions and acts as both a weapon for players and gives the opportunity to link up and be used as a stealth operative. The dog is also a kill streak reward in multiplayer. One thing that the developers did that was fantastic is featuring the dog as both a character and an instanced gameplay event similar to that of a turret or tank sequence. What they didn't do though was beat you over the head and having the dog constantly by your side and being shoved down your throat as the driving force of gameplay. (I am looking at you Peter Molyneux.)
One thing that stood out to me for the first time really in Call of Duty: Ghosts that never really felt so substantial in past games are the guns and how each gun had a distinctly different feel and dare I say weight to it. While obviously it couldn't actually feel the guns, how they behaved, the impact they had and the way my character reacted to them stood out more so than ever before. Though I am not a hugely competitive player online, this change is probably sure to be even more noticeable to those online who are competing at a higher level.
For the most part, Call of Duty: Ghost's multiplayer is pretty standard fare. While there are added customization options, there is still a pretty deep list of multiplayer gametypes for players to explore. Outside of the traditional multiplayer mode, they've added what is known as Extinction mode. Extinction is similar to that of a Zombie mode where players must gain money by killing enemies, in this case it is grotesque looking alien, bug type mutant things.
What is different though is rather than just have a horde players must cut through in rounds, they instead need to defend various objectives like a drill or helicopter that is aiding in their goal of eliminating the enemy species. The mix of the horde and defense modes play well together and give something different enough for what players are used to so it is worth playing, but not so far removed that it is a totally different style of game to become familiar with.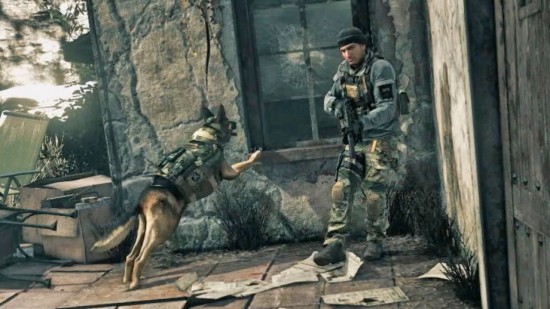 And the Short
I wouldn't make any grand statements about Call of Duty: Ghosts that I couldn't back up. It isn't the game of the generation or even game of the year. It is though a fantastic evolution in the Call of Duty franchise. Looking back at the launch of the XBox 360 and Call of Duty 2, it is amazing to see the progress of the franchise both in terms of its place in the industry and the change in gameplay and graphics it has inspired.
For those waiting until the next gen releases, while I can't speak on the visuals since I haven't gotten the chance to play through in person yet, the gameplay is worth it and hopefully enough people hop on to build a strong launch multiplayer community for it as well since that is what keeps Call of Duty at the top of the XBox Live charts year round after all.
XBox 360 (Also available on XBox One, PlayStation 3, PlayStation 4, PC, and Wii U)
Developer: Infinity Ward
Publisher: Activision
Price: $59.99
Score: 9.0