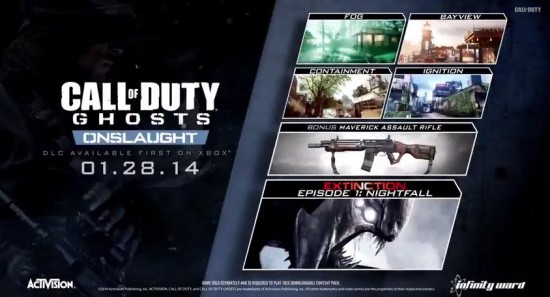 Yesterday, Activision gave the first detailed glimpse at Onslaught, the first DLC pack for Call of Duty: Ghosts. As has become the standard, the pack will include four regular multiplayer maps, one new weapon and one survival map, this time for the Extinction game mode. As you'll see in the trailer after the break, the multiplayer levels are more goal oriented than ever before with a "reward" system that looks to really change the dynamic of each individual match.
The most exciting new map has to be Fog. A dark and spooky backwoods map with cabins and a barn, the real excitement comes from the completed field order which turns a player into Michael Meyers. Yes, from Halloween. When you're Michael, you get armed with an axe… and his signature theme music. When you get close, your victim knows it's coming and hear it before you take them out.
Not to be completely outdone, Bayview, Containment and Ignition sport a equally as interesting and creative field orders. I'd tell you more about them but I need to give you some reason to check out the trailer below. Also unique is the dual designed gun with the Maverick Assault Rifle / A2 Sniper Rifle that has a really cool and unique sniper attachment.
Finally, Extinction adds a new chapter with Episode 1: Nightfall. Trying to help explore the lore behind the world of Extinction, Nightfall brings a snow-covered environment with a new weapon based on the Scorpions from the first Extinction as well as two new cryptids, the phantom who looks like he will be a gigantic pain as it jumps/teleports around you and the new boss cryptid call the breeder who is the largest Call of Duty boss mob created thus far.
The Onslaught DLC will go live on XBox One and the XBox 360 on January 28th with other systems to follow. It can be purchased for $14.99 or as a part of the Call of Duty: Ghosts Season Pass which is available for $49.99.