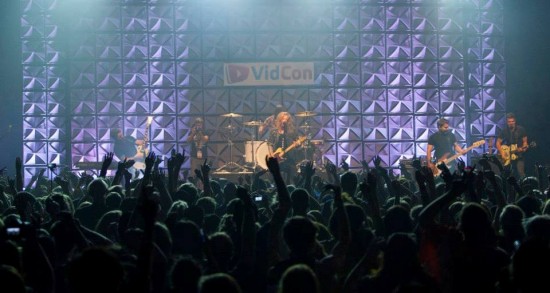 More than 18,000 online video fans and creators are expected to flood the Anaheim Convention Center for the fifth annual VidCon June 26-28, 2014. YouTube will once again be the title sponsor of the event.
"VidCon is simply about and for people who love online video," said Hank Green, creator and cofounder of VidCon. "The media landscape is rapidly changing, as is the way we communicate with one another, and we have created a single event that brings together everything and everybody connected to online video."
Many of online video's most recognizable personalities have already been confirmed for VidCon 2014 including: Charles & Alli Trippy, Charlie McDonnell, Freddie Wong, Grace Helbig, Hank & John Green, Hannah Hart, iJustine, Philip DeFranco, Toby Turner, Ze Frank, Jack & Finn Harries, Tyler Oakley, The Gregory Brothers, Wheezy Waiter, Dane Boedigheimer (The Annoying Orange), The Fine Brothers, Rhett & Link, Shay Carl, Zoella, Tanya Burr, Jim Chapman, Marcus Butler, Caspar Lee and Troye Sivan.
As has become the expectation of the convention, VidCon will include programming for fans and industry professionals such as Q&As, signing, performances, keynotes, panel sessions and roundtable discussions. Attendees may purchase a community or industry pass for the event. While the community pass offers attendees full access to gatherings, performances, concerts, signings, the expo hall and more, the industry pass includes all of these plus creator-specific content. Special limited time only early bird pricing makes the community pass $150 and the industry pass $550 at www.VidCon.com.
Recent data from digital measurement and analytics research company comScore, shows that close to 200 million Americans are watching approximately 50 billion online videos every month. Data like this makes the growing popularity of VidCon, the largest industry and fan conference for online video in the world, even more apparent.
Started in 2010 by online video personalities and brothers Hank and John Green, VidCon has grown exponentially and is now attended by more than 18,000 industry professionals, content creators and fans. More information is available at www.VidCon.com.