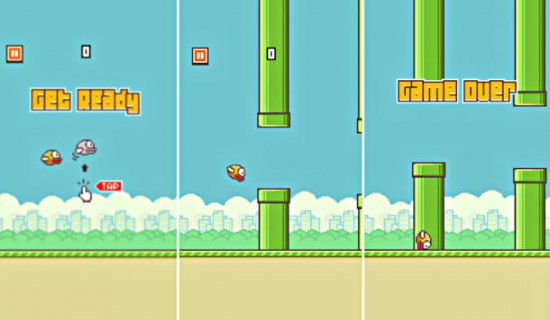 I know. I can't believe it. As quickly as Flappy Bird came to us, it has now left us. But in the process, it has left an eternal stamp on the gaming world that not many would have expected from a simple mobile game. Filling YouTube with rage quit videos and costing thousands of dollars in damage, Flappy Bird has clipped its own wings.
For those who don't know, Flappy Bird was a game that came out and quickly became a viral hit much in the way that Angry Birds and Tiny Wings did (and it is completely ridiculous how popular birds are on mobile gaming). Unlike its avian cousins though, Flappy Bird was not easily accessible to all players.
Our parents and grandparents can't just pickup and play and have a good time. Even seasoned gamers are terrible at Flappy Bird. After maxing out my high score at 6, I had to put down my iPhone or risk throwing it across the room.
Perfect timing is required to succeed at Flappy Bird. Traversing across the world, a player can only tap the screen to give the bird a boost up. Unfortunately, the bird likes to spring up at a rapid pace and has incredible hit detection with the pipes it passes through. Even a quarter second premature hit can result in a failure. This game makes Dark Souls feel fair.
After a short time and an estimated $50,000 a day in ad sales, the creator decided he was taking the game down, saying that it had ruined his simple life. This lead to the obvious upheaval online of people tearing him apart for deciding to pull the game after it made him rich. Whatever the true reason behind it, Flappy Birds is no longer available for download.
But you can buy it. Sure to be a rare occurrence, a number of people have begun selling jailbroken iPhones containing the game for thousands of dollars. Right now on eBay, you can find one person selling his phone for over $3,000. Just for a $500 phone with a free game on it. And the worst part is that people will buy it.
For those who never got to experience Flappy Bird for themselves, consider yourselves lucky. You'll probably outlive the rest of us after we all croak from pent up aggression. You won't need to replace an iPad that you smashed across your kitchen table or your iPhone that you threw into the creek by the highway. If you don't understand what I mean, watch the video below from YouTuber Boogie2988. Don't say I didn't warn you.