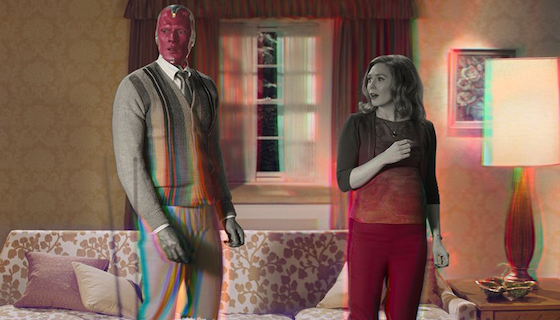 That's right, it's a new year and another new episode of The Flickcast. Let's keep it rolling!
Even though we've dropped a few episodes this year already, we never really got a chance to say "Happy New Year" yet (or did we?). So anyway, here it is . . . and what a new year it's turned out to be. Things are definitely looking up!
On this week's show Chris and Joe go deep into the new Marvel/Disney+ show WandaVision and discuss their personal theories about the characters, what's happening on the show and what's with those weird commercials. They also talk about Sam Esmail's upcoming version of Battlestar Galactica, more on The Expanse (which is having an amazing season), why other shows like Supernatural and Stargate had such long runs, upcoming movie and TV versions of Dungeons & Dragons and what the hell happened with Game of Thrones.
Picks are also back this week with Joe choosing the show Letterkenny, which is now on Hulu, and Chris picking the Judd Apatow 2020 film The King of Staten Island with Pete Davidson, Marisa Tomei, Bill Burr and Bel Powley.
It's another big show. Let's keep 2021 going in the right direction. Thanks for listening!
WARNING: This episode may contain discussions about COVID-19, mental health and quarantine. We understand not everyone is in a place to talk about or hear discussions surrounding these issues. Please do what's best for you. Stay safe everyone.
As always, if you have comments, questions, critiques, offers of sponsorship or whatever, feel free to hit us up in the comments, on Twitter, Instagram or, yes, even Facebook. Or shoot us an email. We don't mind.
Photo: Disney / Marvel
Opening and end music by Kevin MacLeod under Creative Commons License
Subscribe: Apple Podcasts | Spotify | Amazon Music | Stitcher | TuneIn | RSS