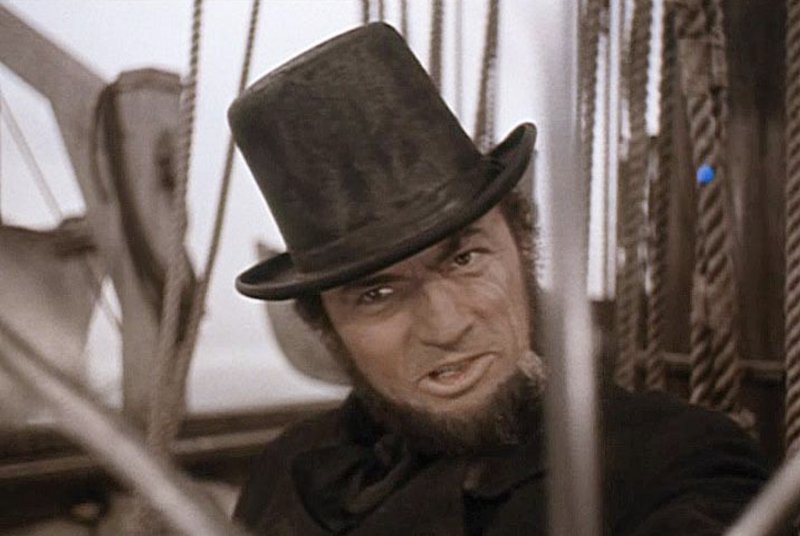 It's time for another edition of Revisiting John Huston. A semi-regular series where we take a look at the films and career of the legendary director. This week we're revisiting Huston's 1956 film Moby Dick, based on the novel by Herman Melville.
Moby Dick is probably the pinnacle of 1950s Huston. Moving from his '40s adaptations of contemporary American pulp (The Maltese Falcon) and popular works (In This Our Life) to more ambitious projects (The African Queen, The Red Badge of Courage, Moby Dick, and, eventually even The Bible), the decade marks a grandiose turn in Huston. It's a bittersweet transformation, however.
On the one hand, these works have a high spirit of adventure to them that still holds up and stay true to the original material. On the other, they lack the deeper, personal, more profound humanity of his earlier films.
Moby Dick is grounded firmly in the former, and, watching it now in 2010, nearly 55 years after it was made, it's still a fun watch. Moby Dick is among the finest novels this country has ever produced. It's held a special place in this English majors' heart since college, when I took an hour-a-week class on it taught by my grizzled advisor "Uncle" Vic, a mid-fortiesh Virginian with a dusty leather jacket, beady horse eyes, and a half-kempt beard.
The class was only an hour and held once a week. But in it, we exhausted nearly every theme, brought in a biology professor whose specialty was cetology, and garnered an appreciation for Melville's epic prose.