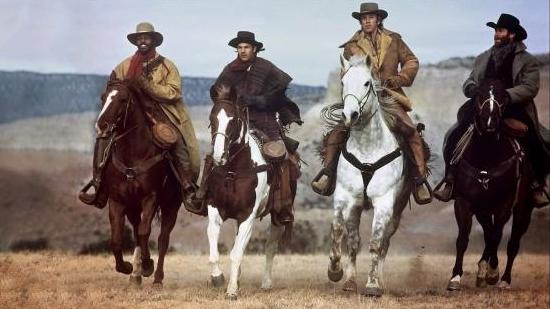 For this week's Western Wednesdays Again we've got Lawrence Kasdan's 1985 epic Silverado. Let's get to it.
"A Western like you've never seen before … An exciting new look at the Old West."
Oh, taglines. I like when you do my work for me. You just described what Silverado isn't!
I've had this one in my queue for quite awhile. I've anticipated it greatly. Writer and Director Lawrence Kasdan is no slouch with pulp-oriented films like The Empire Strikes Back and Raiders of the Lost Ark to his credit so I had high hopes.
If there's one thing Kasdan knows, it's action adventure, right? Not when it coms to Silverado, a film that misses the mark so often that I fail to see how it's garnered 2-disc collector sets and such enthusiasm among Western fans.
I suppose it's all due to Costner. Little baby Costner. This is the film that made him a star and a dreamy genre successor to John Wayne and Clint Eastwood. They seem to have costumed him with that very idea in mind, because he wears a variation on every famous Western and cowboy look ever filmed.
At one point, he even wears a serape. He's a weird, goofy character — I can't tell if he's special or just supposed to be extremely young — and the highlight of the film is undoubtedly when he decides his horse needs to wear a hat. It just comes out of nowhere. Costner walks down the street, happy as a clam, and his horse is wearing a cowboy hat.