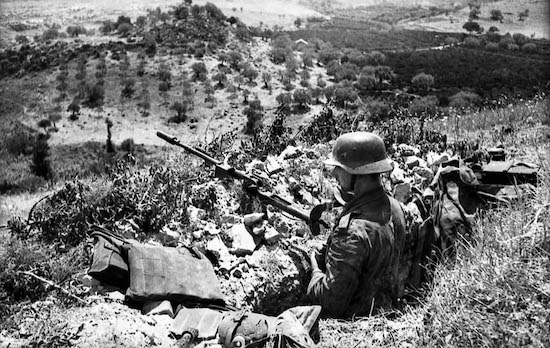 It's time for another edition of Revisiting John Huston. This time we're picking up with two more of his WWII documentaries: 1945's The Battle of San Pietro and 1946's Let There Be Light. I mentioned last time that Report from the Aleutians came under some scrutiny from the Army, but these two were lucky to have seen the light of day (pun kind of, eh, intended).
I recently went through John Huston's autobiography An Open Book, which provides a lot of details regarding Huston's troubles with Army censors while making all three of these films, and while I'm going to focus on the films themselves, the stories behind them are almost as compelling.
San Pietro was controversial for its depiction of war, and it was only through the intervention of General George Marshall, who said it'd make a good training film, that it was shown. Let There Be Light wasn't so lucky.
The Battle of San Pietro depicts the eponymous battle between Allied Forces and the Italian Royal Army and Germany. But the actual battle is not the main focus, just as the Aleutians were not the main focus of Report from the Aleutians or the Mason General Hospital in Let There Be Light is the main focus, as we'll see. In all three, Huston uses his setting to address a larger theme—the daily life of soldiers; the brutality of battle; the psychological consequences of war.