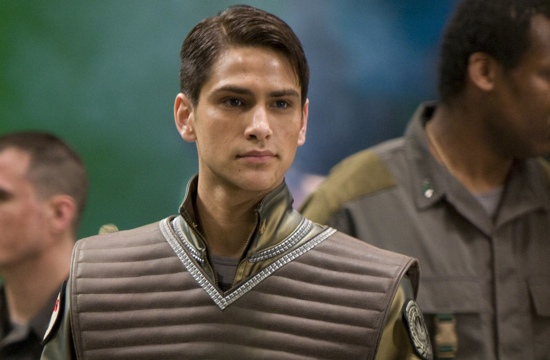 For those of you anxiously waiting for another series that takes place in the Battlestar Galactica universe (and really, who isn't?), you're wait appears to be coming to an end. That's right, the much anticipated Battlestar Galactica: Blood and Chrome series now has a premiere date.
However, before you get your hopes up too high, the show won't actually be airing on a TV network or, actually, on TV at all. Well, not at first anyway. Confused?
This handy press release from Universal explains it all. Bottom line? You'll be able to see the show online first and then on Syfy and then on Blu-ray, etc. So, that's a good thing.
LOS ANGELES – November 5, 2012 – Universal Cable Productions (UCP) will launch for the first time a three-tiered windowing strategy including online, TV and home entertainment, for Battlestar Galactica: Blood & Chrome, a spinoff of the blockbuster Battlestar Galactica series franchise. Fans will first view Blood & Chrome when it premieres exclusively on Machinima's premium channel, Machinima Prime (YouTube.com/MachinimaPrime), beginning November 9. The initial online debut introduces the latest segment of the revered TV series franchise to a new generation of fans while also launching the multi-platform strategy.
This highly anticipated chapter in the Battlestar Galactica saga takes place in the midst of the first Cylon war. As the battle between humans and their creation, the sentient robotic Cylons, rages across the 12 colonial worlds, gifted fighter pilot, William Adama (Luke Pasqualino, The Borgias), finds himself assigned to one of the most powerful battlestars in the Colonial fleet: the Galactica. Full of ambition and hungry for action, Adama quickly finds himself at odds with his co-pilot, the battle-weary officer Coker (Ben Cotton, Alcatraz). With only 47 days left in his tour of duty, Coker desires an end to battle as much as Adama craves its onset. Lili Bordán (Silent Witness) also stars.
Universal Cable Productions' partner in the launch is Machinima, the next-generation video entertainment network for young males, and the number one entertainment network on YouTube. Each Blood & Chrome chapter will premiere exclusively on Machinima Prime (http://www.youtube.com/MachinimaPrime), Machinima's premium channel, which has garnered over half a million subscribers in 3 months, and among other young male centric content, features original series in the sci-fi, drama, comedy, sports and animation genres.
Leveraging cutting edge CGI and virtual set technology, Blood & Chrome is produced by Universal Cable Productions, a division of NBCUniversal, and the award-winning producing team of Battlestar Galactica. David Eick (Battlestar Galactica, Caprica) is executive producer along with Michael Taylor (Battlestar Galactica, Caprica), who wrote the teleplay from a story by Eick, Bradley Thompson (Battlestar Galactica, Falling Skies) and David Weddle (Battlestar Galactica, Falling Skies). Blood & Chrome was directed by Jonas Pate (Prime Suspect, Caprica).
"With its top-notch storytelling, pulse-pounding action, and cutting-edge visual effects, Blood & Chrome is the perfect extension of the Battlestar Galactica universe," said Mark Stern, President, Original Content, Syfy and Co-Head, Original Content, Universal Cable Productions. "We are thrilled to see this hotly-anticipated event premiere on Machinima, an online network that is unparalleled in its delivery of high-class digital content to millions of viewers."
Battlestar Galactica: Blood & Chrome will be presented as ten, 7-12 minute episode chapters available exclusively on Machinima Prime until February 2013, followed by its premiere as a 2-hour movie on Syfy (airdate TBA), and finishing with the release of an unrated version on Blu-ray, DVD, digital download, PPV and VOD. The series will remain on Machinima through April 2013.
"The storied Battlestar Galactica franchise has a huge following and resonates perfectly with our audience," said Allen DeBevoise, Chairman, Co-Founder, and CEO of Machinima, Inc. "We are thrilled to be the exclusive distributor for Battlestar Galactica: Blood & Chrome. Series fans have been anticipating this chapter of the Battlestar Galactica: Blood & Chrome story and we are proud to deliver it to them, as a whole new audience on Machinima, reinforcing Battlestar Galactica's status as a pop culture icon."