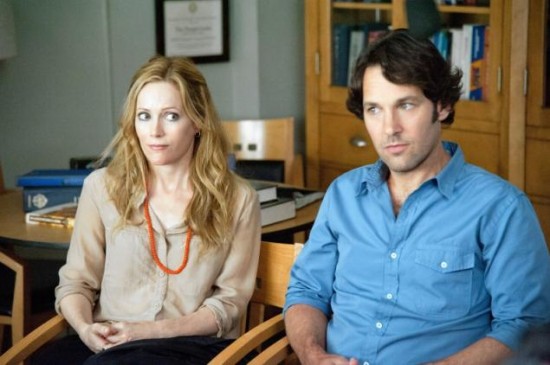 It's a sort of sequel to 2007's Knocked Up in the sense that it focuses on the supporting characters Debbie (director Judd Apatow's real-life wife Leslie Mann) and Pete (Paul Rudd), both turning 40 the same week and juggling a handful of personal and financial problems.
Paul manages a near-bankrupt record label, signing such current acts as Graham Parker, while Debbie runs her own clothing store and tries to discover which of her employees — Jodi (Charlyne Yi) or Desi (Megan Fox) — has stolen $12,000. Added to that are squabbles with the kids Sadie and Charlotte (Maude and Iris Apatow) and Debbie's absent and Pete's beggarly fathers (John Lithgow and Albert Brooks).
There isn't a conventional plot as much as an exploration of these two people, how they deal with things, how they show their love and appreciation for each other. Rudd and Mann have a great rapport, which I can't do justice to by simply saying that they really feel like they've been married and are 40.
Actually, I think it's the familiarity, and probably because they wrote their own lines. Many of conversations must be ripped straight from Mann and Apatow's lives, as well as Rudd's, and the two share the same comic ability of seamlessly disassociating themselves from reality when threatened.
It's a long film, and the two leads are almost enough to carry the film for nearly two hours. None of the threads — will Pete's deadbeat dad stop asking for money? Will Debbie find out who stole the cash? Will Sadie ever finish LOST? — achieves anything resembling a major plot. They're their own little stories that twist and turn into each other occasionally. I like vignettes, too, and I also hate a lot of the contrivances that a comedy plot generally offers, but relying so much on improv to drive the film in turn makes it very repetitive.
In one instance Melissa McCarthy shows up and more or less won't leave until she lands a punchline she's satisfied with. In another, Debbie and Pete eat some pot brownies while on vacation and  torment the hotel staff with goofy antics, none of which really land.
Then again, that may be because every punchline was spoiled by the trailer. For that matter I can't remember the last time so much of a film was covered in just a few minutes of video. Whatever. With the exception of almost every Albert Brooks line, I didn't laugh at much anyway. And I don't know if Apatow's aiming more for realism than comedy here.
He has his premise and he and the cast stick to it (and kudos to Leslie Mann for stepping up to the plate) almost to the point that This Is 40 becomes an experimental film. Not to sound like a prick, but I like it more for how true it is to itself than how funny it is.