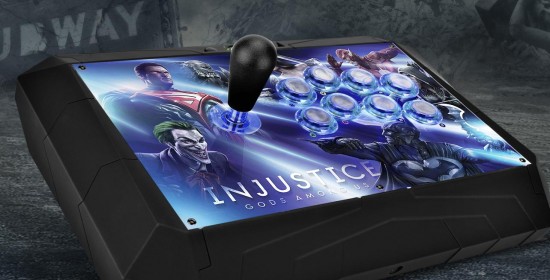 We've been keeping a keen eye on NetherRealm Studio's followup to Mortal Kombat vs. DC Universe in Injustice: Gods Among Us (which still confounds us that no DC logo or brand name of any kind is in its title even now with the final box art). The latest news is that Injustice: Gods Among Us finally has a release date of April 16th, 2013 as well as two special editions.
The Collector's Edition of Injustice: Gods Among Us will sell for $99.99 and will include a copy of the game, a digital download of the DC Animated Film Doom, a three pack of DLC costumes for Superman, Batman and Wonder Woman based off of their DC New 52 designs, an Injustice comic and a statue of Wonder Woman and Batman in combat exclusive to this collector's pack.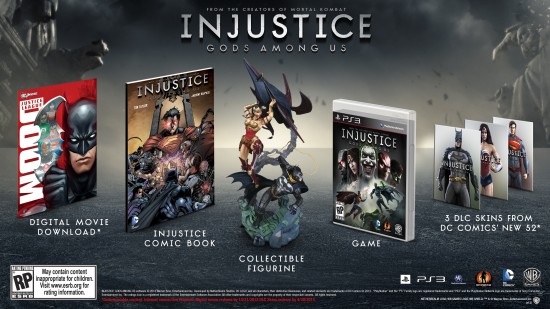 The real gem of Injustice though comes from the Injustice: Gods Among Us Battle Edition. Like the Collector's Edition there will be a copy of the game and downloadable character skins. It will also have an exclusive Fight Stick. As you can see in the image below, the fight stick has a unique button layout designed for Injustice as well as special artwork as well. It will also include "a non-skid foam underside, a lockout feature for the Start, Select and Guide buttons, as well as adjustable illumination for the buttons and joystick."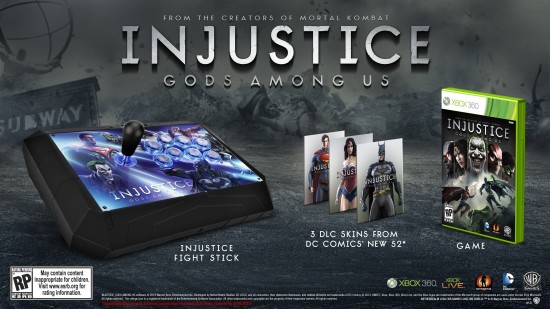 As mentioned, Injustice: Gods Among Us will be released on April 16th for the XBox 360, PlayStation 3 and Wii U but both special editions will only be available for the XBox 360 and PlayStation 3.