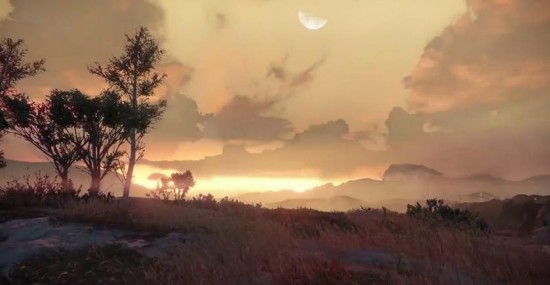 If Halo, Borderlands and Star Wars had a random drunken blue milk induced menage trois, Destiny would be its baby. At E3 we got a first look at the gameplay of Destiny. After the "Law of the Jungle" trailer got me to care about the story, I couldn't wait to see how the game looked in action. It doesn't matter if the game is on the PlayStation 4 or XBox One, it looks beautiful. But what stood out the most was that there actually looks to be some real variety to the world as it isn't just another corridor shooter.
A combination of team based shooter combined with force powers and speeder bikes in drop in events is a pretty epic task but if anyone can pull it off, it'd be the team over at Bungie who has proven themselves to be masters of building worlds and multiplayer experiences. The drop in interaction seemed to run seemlessly, even on stage at E3 where some games had their share of glitches. Given the time to polish it before release, Destiny looks like it can be one of the game that delivers on both its promises and expectations of its audience.
Take a look below at the E3 gameplay trailer for Destiny, set for release on the PlayStation 4, PlayStation 3, XBox One and XBox 360 in 2014 from Bungie and Activision.