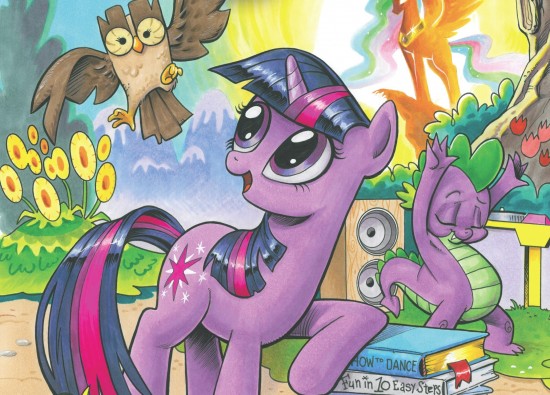 It is time to face the facts: My Little Pony is a worldwide phenomenon. The My Little Pony: Friendship is Magic comic from IDW has now sold over 1 million copies in less than one year. The first issue is also the best-selling comic in IDW's history.
"We have a great relationship with Hasbro, one we've always been very proud of, so selling a million copies is a really big deal, but to be able to celebrate the achievement with Hasbro makes it even sweeter, " said Ted Adams, IDW CEO & Publisher.
In celebration of the milestone, Hasbro and IDW are producing a rare variant cover for issue #12 of the comic, which is due out this month. Only 12 copies of the cover will be available to win through contests and charity auctions.
"We're excited to be celebrating this important milestone with IDW," said Michael Kelly, Hasbro's Director of Global Publishing. "They've understood what MY LITTLE PONY is all about from the start, which is proven by the fact that their comics appeal to fans of all ages, including young girls who traditionally haven't had many comics directed toward them.  Also, we love the fact that we can commemorate this special event by benefiting others in need of the magic of friendship."
The My Little Pony: Friendship is Magic animated series is created by Hasbro Studios and is currently airing on The Hub TV Network in the United States and can be seen globally in over 170 countries.