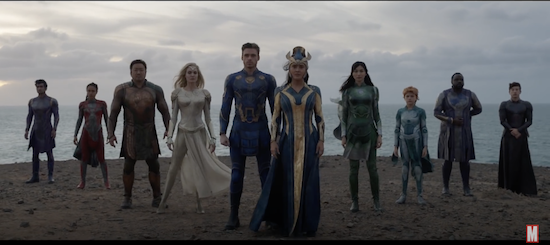 It's time for another edition of Trailer Time. Today's teaser/trailer comes from our friends at Marvel and is for the highly anticipated movie Eternals.
After getting 12 seconds of footage recently from Marvel featuring the Eternals, today the Marvel team dropped an actual teaser for the upcoming film. And we have to say, it looks pretty epic. But did you really expect otherwise?
In case you're not familiar, Eternals features a group of immortals originally created by the Celestials who "after an unexpected tragedy following the events of Avengers: Endgame, reunite to protect humanity from their evil counterparts, the Deviants."
You know what that means, of course? Expect a lot of epic battles and Marvel's usual dose of humor. In fact, you even get a bit of that in this teaser. Stay to the end. It's pretty funny.
Eternals, originally created by the great Jack "King" Kirby, is written by Chloé Zhao and Patrick Burleigh and directed by Chloé Zhao. It stars Gemma Chan, Richard Madden, Kumail Nanjiani, Brian Tyree Henry, Kit Harrington, Salma Hayek and Angeles Jolie.
It hits theaters and, one would suppose, streaming on Disney+ on November 5. Until then, check out the teaser below.