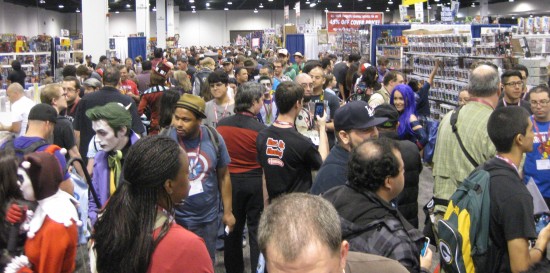 Hey all! As I am sure some of the regular readers of The Flickcast have noticed, my favorite part of the Con season is taking pics at them. Unfortunately, due to some professional responsibilities, I was only able to get down to one day of WonderCon this year.
But because my time was limited, I didn't waste it on panels and the like. Instead I hit the floor with camera in hand and got as many pics of the Wondercon sights as I could.
While WonderCon doesn't have the size of San Diego or New York Comic Con, the fans there weren't any less fervent with their cosplay love. This year I saw a lot of new and original costumes I had not seen before. While a pimped out Boba Fett was present, I also saw for the first time Paper Mario as well as a group of female X-Man villains. Alongside the working R2 units, there was a life sized Wall-E that sadly the picture doesn't do justice as it captured all of the personality of the movie and brought it to life in front of us all.
Also, the ironic picture, "he who shall not be named" had a booth but it was mysteriously empty aside from his banner. How odd.