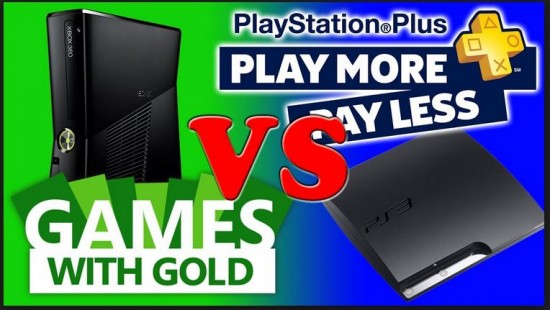 So on the Monday Freeview, we have brought you some examples of free shows or games you've been able to get a hold of. Up until this point though we have ignored two very important "free" options in the gaming world. These are the downloadable gaming libraries available to those subscribed to the XBox Live Gold and PlayStation Plus services.
While these services are technically not free, the inclusion of downloadable titles has been added to them as an added value while both primarily serve as a way for gamers to play online for the XBox 360, XBox One and PlayStation 4.
First, let's take a look at the PlayStation Plus service. Originally a waning service as it wasn't required for online play, the Instant Game Collection was one of the features that had not been fully exploited. It wasn't until about two years after the service launched in June of 2010 that they began offering full PlayStation 3 titles to the roster as opposed to mainly retro games or PSN titles.
When they began offering full titles much closer to their original release date, the service picked up some steam. Currently, players can download DMC, Bioshock Infinite, Brothers: A Tale of Two Sons and Borderlands 2 on top of a number of other high profile titles. Though it doesn't specify how long titles are available for, there is a constant rotation of new top tier content being brought into the library to replace lapsed titles.
The service also extends to the PlayStation 4 and Vita with three titles so far added to the PlayStation 4 and most of the top Vita titles having be on there at some point. For $49.99 for the year, it is the equivalent of an awesome downloadable GameFly because one important thing to note is that if you suspend your subscription, the games all become locked and even though they live on your systems will not be playable.
Microsoft definitely came up with the Games with Gold promotion through XBox Live as a reactionary countermeasure to the budding popularity of the free titles downloadable through PlayStation Plus. They decided to take a different route though. Instead of a horde of titles, XBox Live releases one title every fifteen days. On the 1st and 16th of every month, a new title is the featured download for Games with Gold. Usually there is a theme for the two weeks relating to the game including deep discounts on the DLC for people getting it for the first time or those already having the title previously. So far since launching last June, only 15 titles have gone live and half of them being XBox Live Arcade titles. There are two interesting approaches compared to Sony's PlayStation Plus campaign. First is that once a subscriber has downloaded a game, it is theirs for good and you don't need to continue the subscription to keep the title active. This would account for the lower number of titles that are downloadable. The other is that there has not been a mention of how this service will apply to the XBox One. This may be due to the lack of emphasis thus far placed on the XBox One for indy games.
All said and done though, if you have both systems it is a pretty good deal for the huge collection of games that you can acquire from each over the course of a year. For a bang for your buck perspective, Sony's deal is better in the short term but as mentioned has limitations for an ongoing subscription. For the long term if you don't mind going back to games years later, XBox Live Gold's deal may be the one for you.