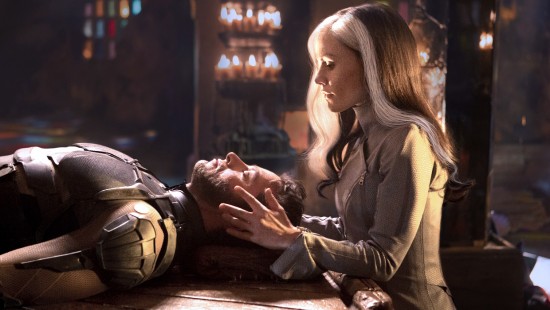 To celebrate the home entertainment release of the X-Men: Days of Future Past Rogue Cut Blu-ray on July 14th, fans at San Diego Comic-Con were treated to a special advance screening of the extended version of the film. Shown on four screens simultaneously at the Reading Cinema in downtown San Diego on Saturday, July 11, the Rogue Cut features an extra 17 minutes of footage including bringing Anna Paquin's Rogue into the film's main plot.
The additional scenes add some more humor and action to the film. It's important to note that although the Rogue storyline accounts for probably 50% of the extra footage, the other 50% is equally as golden. Highlights of the later portions include some very funny bantering between Quicksilver and Magneto and a romantic scene between Beast and Mystique. Several fans at the SDCC screening pointed out they had already seen these portions online as deleted scenes.
As for the Rogue bits, they fit and strangely enough they seem essential to the plot. Sadly, since we've all seen how the film carries on without, they end up feeling more superfluous than they were intended to be. That said, that Bryan Singer was able to take Rogue out and still make Days of Future Past work and work well is commendable. It couldn't have been easy to re-work scenes, dialogue, and climatic moments all to remove one character.
There is one sequence that had to have been particularly difficult to let go. As in the theatrical cut, young Magneto breaks into the Department of Defense to retrieve his helmet. In the director's cut, this scene is edited together with older Magneto breaking into the X Mansion to help retrieve Rogue.
The quick back and forth between these two moments, both of the same man performing essentially the same task but with vastly different motivations and purposes, was beautifully done and one of the best payoffs for Rogue Cut.
X-Men Days of Future Past the Rogue Cut will be available on Digital HD, Blu-ray and DVD July 14th and will feature the extended version of the film as well as nearly 90 minutes of all-new special features. Check out a quick first look at "Rogue Cut" below.